| Release date | November 23, 2022 |
| --- | --- |
| Release version | 2022.1.1 |
| Release alias | Static tag release |
| Release note | v1 (December 23, 2022) |
About release 2022.1.1
The 2022.1.1 release includes support for static tags, the tags have an additional field which indicates whether they are moving or not. In case they are static, the update rate will automatically drop, which will result in increased battery life. Once the tag starts moving, the update rate will rise again. Because the positions are processed differently in different movement states, the positioning accuracy is further improved.
What do I need?
To use the static tag feature, you will need a Pozyx Tag (Industrial or Wearable) with static tag firmware installed. The static tag feature is included in all firmware versions starting from V2.0. To configure the settings for your static tag, you will need to use the latest Device Configurator software.
How to get the new release
Please contact enterprise@pozyx.io to get your Pozyx system upgraded. To have the new release installed, your gateways needs an internet connection. The Pozyx Support team will upgrade your system remotely.
New features
For more detailed information about the features below, we refer to our documentation.
For each tag a movement field has been added which indicates whether a tag is moving or static. This field is available both in the MQTT stream and in the Pozyx App Visualization as shown below.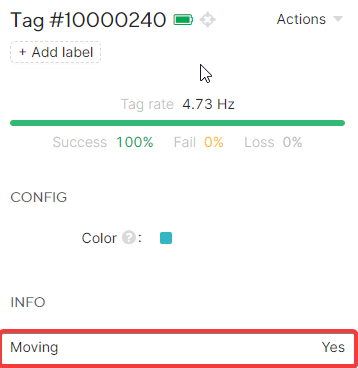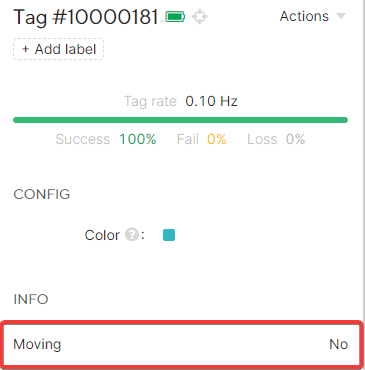 This release introduces the label manager, an application that makes it easier to update and manage all the labels of your anchors.

A new anchor status message indicates if an anchor is used in presence only mode.




In the positioning settings, it is now possible to configure a disappear time. The disappear time is the time it takes for a tag to disappear from the visualization.

Other changes
Minor bug fixes.

TWR positioning is removed from the positioning settings.
Support
For support or additional questions regarding this release please contact enterprise@pozyx.io.